Slides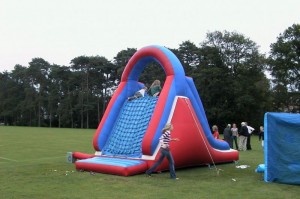 We all know how much fun we can all have on a bouncy castle but if you want something a bit more thrilling then why not try our inflatable slide. It may look a bit daunting to small children but once they have a go, they will not want to stop. Even adults love our inflatable slide.
Our Slide is 16ft wide, 28ft deep and 28ft high. Even though this is mainly used for school fun days and other big events, it is becoming more popular at birthday parties because it is ideal for everyone and will provide hours of fun. This of course is if you have the room. If you are interested in hiring out our inflatable slide then you must have a member of our staff supervising at all times. This is included in the price.
If you have a charity event coming up then hiring our inflatable slide could help you to raise more money for a worthwhile cause. You could hire the slide out for the whole day along with some of our other inflatables and could sell wrist bands so the children can play on them for as long as they like.
Please contact us today for more information if you are interested in hiring our inflatable slide.