Zorbing Balls – Essex Zorb Hire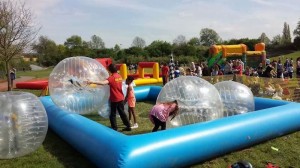 If you are looking for something that is really different but loads of fun then why not consider Zorb balls. Zorb balls or Zorbing, as it is called is when you get inside a giant ball and then walk or run inside it. You will get rolled around but will laugh, scream and will certainly get an adrenaline rush while you are in there.
If you would like this for a fete or a special occasion then you can also hire the inflatable barriers that will keep the giant balls in an allocated space. This will stop the balls from rolling away. This is great for children and adults and will provide hours of fun.
We are the premier supplier of Zorbing balls and we hire out on a regular basis to any events planner wishing to give that function or party just that something extra.
Available to hire for kids and adults alike in the Essex area, our water zorbs let you walk on water, have great fun and simply enjoy the experience.
Inflatable Pools for Zorbing Balls
Roll, spin, flip and giggle on the water and you won't even get wet!
Walk on water and hire our zorbing balls for any event. Fields, hotel gardens, private gardens and public places are absolutely brilliant places to have our zorbing balls.
We will arrive with you at an agreed time to set everything up and there will be a trained operator on site at all times.